Sylhet Women's Medical College
Sylhet Women's Medical College
Sylhet Women's Medical College has long been associated with medical education. It is a private medical college build to assist in the training and education of superior physicians who will have a broad knowledge of medicine, excellent technical skills and mature, informed judgment. 
The ability to offer our patients the latest in medical knowledge and expertise, and the dynamic medical environment which only teaching institutions possess, are significant enhancements to the care Sylhet Women's Medical College Hospital. If you choose to complete your MBBS Course at Sylhet Women's Medical College, you will have a unique experience. 
You will be a vital part of a community hospital which offers not only extensive clinical exposure to a broad range of medical problems, but also the opportunity to experience meaningful involvement with patients and their families. You will also enjoy the intellectual stimulation and growth that comes from listening to, and associating with, many of the foremost medical specialists of our day.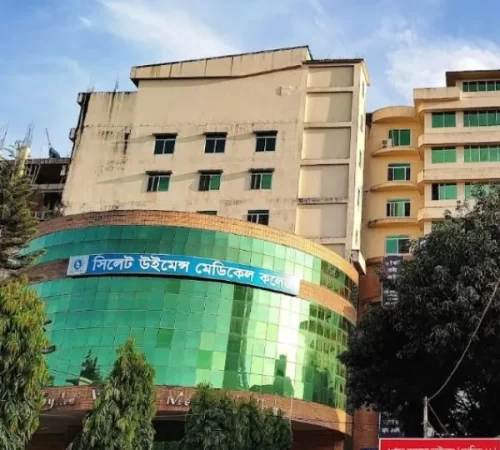 Information About Sylhet Women's Medical College
| | |
| --- | --- |
| Medical Collège Type | Private Medical College for Female Study Only |
| Established | 2005 |
| Academic Affiliation | Sylhet Medical University (SMU) |
| Recognition | Bangladesh Medical & Dental Council (BM&DC) |
| Approval | National Medical Commission (NMC) of India, World Health Organization (WHO) & Associated with Ministry of health and family welfare |
| Course | MBBS |
| Total Student | 625 |
| Every Year Intake | 100 |
| Available Foreign Student Seats Per Year | 50 Percentage |
| Duration | Five Years |
| Language | English |
| Location | Mirbox Tula, Sylhet, Bangladesh |
Tuition Fee in Sylhet Women's Medical College
Total Fee in this Medical College: US$ 42,000.00 (Forty-Two Thousand Doller) or 3,460,00.00 INR (INR may very). Contact with Fortune Education for Fee Details, Call or WhatsApp:  +8801995529533

Authorized Consultant of Sylhet Women's Medical College
Fortune Education, established in 2004, is a registered education consultant of Medical colleges & Universities for medical aspirants and An authorized representative of Medical, Dental colleges, and private universities all over the world. Fortune Education offers MBBS, BDS & others' admission, application, guidance, and documentation. We also offer required services such as scholarships to eligible students regarding medical and higher studies. We also offer admission to top medical colleges in Bangladesh and all over the world.
Fortune Education has legal rights to higher study & processing admission to Medical, Dental college, and universities all over the world. Offer MBBS, BDS & others Admission, Application, Guidance, Documentation, and required services such as to eligible students regarding medical and higher studies
Advantages of MBBS in Sylhet Women's Medical College
The academic faculty has highly qualified teachers and the attached hospital is a most modern and standard one, well-equipped with all the modern facilities. All these will help the students to gain knowledge, skill and attitude to deal with the health problems of the community and make their basic very sound for future training and higher study.
There is an adequate number of books with IT facilities in library for students.
The college provides with practical experience on human side of medical science and prepare in quest to shape and educate for future development in science and health care.
The objective is to educate the students to enhance the clinical services in order to set quality controls for clinical practices and to deliver health care services to the satisfactions of the patient.
The institute offers high quality advanced educational excellence and research at world standards.
No need to appear for any language entrance exams (like IELTS/TOEFL/ PTE) to get admission in Sylhet Women's Medical College.
The faculties are highly qualified and experienced.
Since it is not possible for every student to wear the high donation for tuition fee charges in the Indian private medical universities MBBS in Sylhet Women's Medical Collegecan be a great relief to the students who are aspiring to study MBBS in abroad.
The problem of language barrier does not exist because English is used as the medium of instruction in the college Campus which is good for avoiding any sort of language barriers.
Every department is provided with adequate number of teachers who have graduate and post graduate degree. Experienced, learned & renewed teachers.
The college offers comfortable and cozy accommodations to all international students studying MBBS. The rooms are provided on twin sharing basis of the same gender. All the rooms are fully furnished and are equipped with all the modern facilities such as central heating and cooling system, laundry facility and Indian mess in the hostel. Shopping complexes, restaurants, cafeterias, and bus stops are all at a walking distance from the hostel.
Good facility for food is also available for the students coming from all corners of the world
There is providence of quality clinical activities.
There is providence of obligation in serving others.
The college also holds social responsibility.
The college believes in the holistic development of every student, therefore to keep students physically fit and active the college organizes various sports tournaments and encourage students to participate in them.
Apart from sports activities, various cultural programs are organized on a regular basis. All the major Indian festivals like Holi, Diwali, Eid and other festivals are celebrated in the college.
Educational Infrastructure
The campus is well-structured secured aims for the development of students. The college offers a five-year course and a year is for an internship for their medical experience as a great opportunity knocking on their doorstep which can they easily do in their attached to a hospital that is 625 beds and three 9 story buildings multi-specialty tertiary maintenance referral hospital with all modern equipment open for 24 hours with work five of 600, pharmacy and cafeteria in it.
At Sylhet Women's Medical College & Hospital our guiding principle is, "Excellence in Healthcare & Education." the internship can easily stipend them up to 156000 approximately and nationally and internationally recognized. The campus in the college has an incredible location and 3 high-rise buildings constructed over 130,000 square feet of land in the heart of Sylhet.
(Online /Direct Admission & Seat Confirmation)
FOR ADMISSION AND OTHER QUARRIES, CONTACT: Fortune Education (Authorized Representative)
HEAD OFFICE: DHAKA, BANGLADESH.
MOBILE & WHATSAPP (24/7): +88-01995529533
OFFICES IN INDIA: WEST BENGAL, MODON MOHON STREET, KOLKATA, PATNA, BIHAR, DELHI, JAMMU & KASMIR, HYDERABAD, LUCKNOW, CHENNAI, AND GUWAHATI.
MOBILE & WHATSAPP (24/7): +91-9903355537