The MBBS program is an Undergraduate program in Bangladesh that is very well-known among Indian Citizens. MBBS Education from Bangladesh is a very good selection for Indian students who would like to study MBBS abroad. MBBS Study in Bangladesh is one of the most beneficial selections for foreign students considering starting a global medical career ahead.
The great thing about Studying MBBS in Bangladesh is the tuition fee is very cheap for a global student in any way. Also Studying MBBS in Bangladesh will make you feel as though you are studying MBBS in India.
For Indian students who would want to study MBBS from abroad, Bangladesh is one of the top choices considering its cost and recognition. MBBS in Bangladesh the medical degree is not very hard to achieve, hassle-free admission procedure as compared to other countries.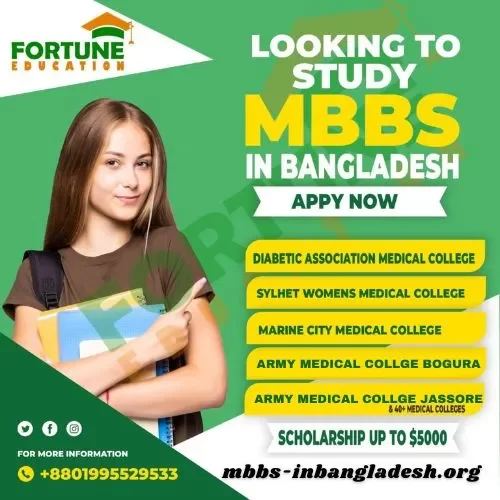 Reason to Choose MBBS in Bangladesh
Affordable Tuition Fee, English is the medium of Instruction
Affordable accommodation and quality living
Standard Infrastructure and hostel facilities
Target-Oriented Learnings
Easily Available Indian-like Food
Closely knitted with the Indian culture and traditions
The top pass rate in the Medical Screening test of India (FMGE)
Most of the universities have their own hospitals where medical students can practice

Advantages of MBBS in Bangladesh
Admission to Bangladesh Medical Colleges is made significantly simpler by taking no entrance exam.

No donation is needed to get admission in Bangladesh medical colleges.

To help students develop their talents more effectively, experiments and practicals are provided to them.

The quality of infrastructure, education, and accommodation is comparable to other developed nations.

The hospitals are well equipped with extraordinary infrastructure and technology.

The Tuition Fee of an MBBS in Indian medical colleges is very high, but when we look at our neighbor, the situation is quite different. In Bangladesh's government colleges, 75 seats are held for overseas applicants, whereas in private colleges, overseas students occupy 30–50% of the seats.

There are numerous medical Colleges in Bangladesh that have been approved by the National Medical Commission (NMC), previously MCI, in accordance with the act of 1956.

An MBBS graduate from Bangladesh must pass the FMGE/NEXT license exam administered by the NBA in order to register with the National Medical Commission of India registration and the State Health council registration to begin practicing medicine in India. And among all the popular locations, Bangladesh has the highest passing rate, as was already mentioned.

The South East Asia Regional Organization for Medical Council recognizes MBBS in Bangladesh

Asia's country with the densest population is Bangladesh. Therefore, the flow of patients is adequate.

Since Bangladesh is very similar to West Bengal in India, there won't be any communication difficulties.

Any city in Bangladesh, such as Rajshahi, Dhaka, Chittagong, etc., would be closer to you than Delhi and Mumbai if you are living in eastern India.

Medical education is arising as a center in Bangladesh. The nation is currently dealing with a massive influx of students from Asia, Europe, and Africa. But when it comes to the number of foreign students in Bangladesh, India and Nepal are leaders.

Since Bangladesh's official language is Bengali, many people may be concerned about the problem of communication. Bengali is remarkably similar to Hindi, making it simple for Indians to learn. English is the primary medium of instruction for MBBS in Bangladesh.

There is also the option of a no tuition fee for students from SAARC nations.
Best Medical Colleges in Bangladesh to study MBBS
Diabetic Association Medical College
Sylhet Women's Medical College
Marine City Medical College
BGC Trust Medical College
Army Medical College Jashore
Army Medical College Bogura
Popular Medical College
Islami Bank Medical College
Ibn Sina Medical College
Medical College for Women & Hospital
Marks Medical College
Brahmanbaria Medical College
Holy Family Red Crescent Medical College
International Medical College
Southern Medical College
Trusted Consultancy for MBBS in Bangladesh
For Indian medical applicants, Fortune Education Consultancy is the most reputable and trustworthy authorized admission consultant for best Medical Colleges in Bangladesh to study MBBS. We assist applicants for direct MBBS admission to Bangladesh's top medical colleges. Kindly contact Fortune Education if you have any questions about the most recent information or admissions-related issues regarding MBBS in Bangladesh.
For Indian students applying for MBBS abroad, passing NEET is obligatory. An equivalence certificate for Study MBBS Abroad is issued by the National Medical Commission (NMC), previously MCI. As a result, applicants to Bangladesh's MBBS program should have a substantial NEET-UG qualifying score. Obtaining an Equivalency certificate within five years of education in medical college is required by the National Medical Commission (NMC), previously the Medical Council of India (MCI).
You are on the ideal site if you are seeking for an MBBS from Bangladesh. The most popular website among Indian students who are interested in studying MBBS in Bangladesh is mbbs-inbangladesh.org
Quick Facts About MBBS in Bangladesh for Indian Students
| | |
| --- | --- |
| Degree Awarded | MBBS (Bachelor of Medicine and Bachelor of Surgery) |
| Course Length | 5 years |
| Internship/Practice | 1 Year |
| Medium of Teaching | English |
| Approvals | National Medical Commission (NMC) of India (earlier MCI) |
| University Type | Government Universities |
| Affiliated | Bangladesh Medical and Dental Council (BM&DC) |
| Eligibility Requirements | GPA 7.00 To 10.00 |
| NEET-UG Score | NEET Qualifying Score Required |
| Validity | Yes, MBBS Course is Valid in India |
| Foreign Seats | Private Colleges 35-50%, Govt Colleges 1% |
| Course Fees | For Private Medical Colleges Total 20 Lakh (INR) To 50 Lakh (INR). For Government Colleges Tuition Fee are FREE under SAARC Scholarships |
| Fee Payment Type | Wire Transfers Forex T.T – Direct to College Account |
| Fee Payment Mode | Installments |
| Accommodation | Separate Boys and Girls Air Condition Equipped Hostels |
| AC Room | On-Demand |
| Food | Same as India – Rice, Dal, Chapati, (Non-Veg & Veg both available) |
| Mess & Food Cost | 2000-4000 (INR) Per Month |
| Religion | Islam: 91%, Hinduism: 8% and Others 1% |
| Weather | Tropical Climate, Similar to Eastern Part of India |
| Authorized Information Center | Fortune Education Consultancy |
| Call or WhatsApp | +880-1995529533 |
| Online Application Link | |
| Website | |
Admission Process of MBBS in Bangladesh
Calculate your GPA online to confirm if you meet the Eligibility Criteria.

Look at the Tuition Fee at all the colleges and institutions in Bangladesh that are accessible. On our website, all the information is easily accessible. Make decisions after giving them a careful thought.

For any questions, call the given Helpline to reach Fortune Education.

On the official websites of the Bangladesh High Commission or Deputy High Commission of Bangladesh, application forms are accessible online. Fill the form and attach all required documents.

Now, a team from your selected college will validate your documents and application, and they will response to you

Once you get the invitation letter, you can go ahead with depositing the required college fees.

Apply for a student visa at the High Commission of Bangladesh. High commission workplaces are situated in New Delhi, Kolkata, Agartala, Mumbai, Guwahati, and Bangalore. All admissions procedures, document procedures, and student VISA processing will be handled by Fortune Education.

Go to the medical college or university once your medical student visa has been issued and begin your wonderful journey toward achieving your MBBS degree from a reputable medical college at a very reasonable price.

(Online /Direct Admission & Seat Confirmation)
FOR ADMISSION AND OTHER QUARRIES, CONTACT: Fortune Education (Authorized Representative)
HEAD OFFICE : DHAKA, BANGLADESH.
MOBILE & WHATSAPP (24/7): +88-01995529533
OFFICES IN INDIA: WEST BENGAL, MODON MOHON STREET, KOLKATA, PATNA, BIHAR, DELHI, JAMMU & KASMIR, HYDERABAD, LUCKNOW, CHENNAI, AND GUWAHATI.
MOBILE & WHATSAPP (24/7): +91-9903355537